Clackamas County Master Gardeners
Free Events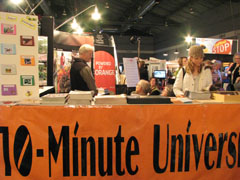 We are a trusted resource of Oregon State University (OSU) research-based information for sustainable gardening, serving residents of Clackamas County and the Portland Metro region.
We continuously refresh our knowledge to stay informed of current gardening issues and new research findings. We actively reach out to our community in sharing our knowledge.
We hold free, educational events throughout the year.
Annual Events Held Throughout the Year
See our main site for details about time and place.
Garden Discovery Day
Want to jump-start your gardening season? Come to the free Garden Discovery Day held in February at the Milwaukie Center, 5440 SE Kellogg Creek Drive, Milwaukie.
From 9 a.m. to noon, the Oregon State University Extension Master Gardeners™ of Clackamas County will test your soil pH, offer 10-Minute University™ classes, and provide fun, hands-on children's activities.
If you have gardening questions not covered by classes, you can consult Master Gardeners at a "clinic".
Secrets of the Tomato Masters
Milwaukie Center, 5540 SE Kellogg Creek Drive, Milwaukie, 503-653-8100
This free event is a must for anyone who grows tomatoes. These tomato masters annually grow over 100 tomato plants including about 50 varieties. Their revelations will get you ready for a fun and productive growing season. Held in March at the Milwaukie Center, 5540 SE Kellogg Creek Drive, Milwaukie, 503-653-8100
Spring Garden Fair
Held every year the weekend before Mother's Day, this event in host to over 200 of the Northwest's favorite Garden vendors. A two day event, held at the Clackamas County Event Center in Canby, OR. You won't want to miss it! Click here for our official event page.
Fall into Gardening
Soil pH Testing & 10-Minute University™ Classes.
Come harvest gardening tips, whether you grow ornamental or edible plants. 10-Minute University™ classes will offer essential gardening information about fall gardening in the Pacific Northwest. Fall is also the ideal time to check your soil pH. Held in October at the Milwaukie Center, 5540 SE Kellogg Creek Drive, Milwaukie, 503-653-8100
---
Problems, questions, or suggestions? Contact: webmaster@metromastergardeners.org