Washington County Master Gardener™
5th Annual Tomato Tasting
Tuesday, September 16, 2014
10 am — Noon
Just show up — No cost and no registration required!
Washington County Fair Complex Demonstration Garden
882 NE 28th Ave. (Cloverleaf Entrance on the west side), Hillsboro, OR «map»

Do you want to taste tomato varieties before you "spend" the garden space to grow them?
Do you want to enter and vote for your favorite tasty tomato varieties?

Please come and taste heirloom, old standards and new varieties of tomatoes at the Washington County Master Gardener Demonstration Garden at the Fair Complex. Participate in the judging and vote for your favorite tomato.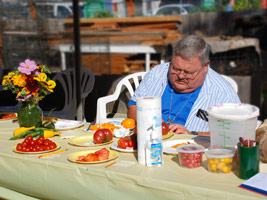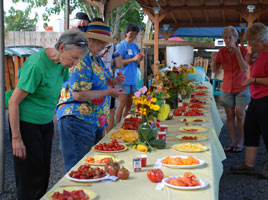 Those wanting to share their own tomatoes bring three or four samples. Any remaining tomatoes are donated to the local food bank.
You are also welcome to tour the demonstration garden and see interesting plants, ways to conserve space in your garden, how to attract bees to your garden and visit with fellow gardeners. We hope to see you and share this wonderful community resource garden.
2013 Favorites (of 62 varieties entered)
Small Tomato
Sweet Baby Girl
Sun Gold
Chocolate Cherry


Bigger Tomato
Black Velvet
Persimmon
Early Girl
2012 Favorites (of 46 varieties entered)
Black Cherry
Sugar Snack
Sun Gold
Black Plum
Jelly Bean
Persimmon
Pineapple
Sweet Hearts
Glacier
Stupice
White Current
2011 Favorites
New Girl
Sun Gold
Glacier
Sweet Million
Amish Paste
---
Problems, questions, or suggestions? Contact: webmaster@metromastergardeners.org