Washington County Master Gardener™
Annual Tomato Tasting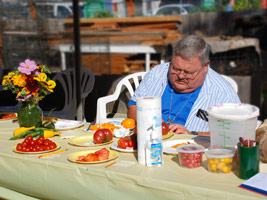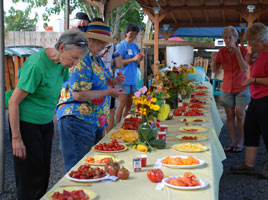 Our tomato tasting is held each year in late September at our Demo Garden in Hillsboro. Check back here for date and details for our 2014 event.
Those wanting to share their own tomatoes bring three or four samples. Any remaining tomatoes are donated to the local food bank.
You are also welcome to tour the demonstration garden and see interesting plants, ways to conserve space in your garden, how to attract bees to your garden and visit with fellow gardeners. We hope to see you and share this wonderful community resource garden.
2013 Favorites (of 62 varieties entered)
Small Tomato
Sweet Baby Girl
Sun Gold
Chocolate Cherry


Bigger Tomato
Black Velvet
Persimmon
Early Girl
2012 Favorites (of 46 varieties entered)
Black Cherry
Sugar Snack
Sun Gold
Black Plum
Jelly Bean
Persimmon
Pineapple
Sweet Hearts
Glacier
Stupice
White Current
2011 Favorites
New Girl
Sun Gold
Glacier
Sweet Million
Amish Paste
---
Problems, questions, or suggestions? Contact: webmaster@metromastergardeners.org