Washington County Master Gardeners™
D O G D A Y S O F S U M M E R
Garden Tour 2012
Saturday, July 21, 2012
10:00 AM to 4:00 PM
Free! Rain or Shine!

Gardens' Details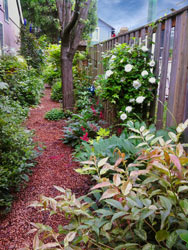 Photo: Dawn Hummel
Dawn's Garden:
20819 NW Swire Lane, Beaverton 97006
Change
Change is a constant in our garden. A 30 foot tall Corkscrew curly willow (Salix matsudana) was taken down to a 3 foot stump in late January opening new planting opportunities. This single change has made not only a major impact on our garden, but also on our neighbor's. Many large shrubs are getting cut back to control growth this spring due to lack of time with a busy schedule. This is a true working woman's garden.
Focal Points
The garden was primarily designed to be viewed looking from the inside out. Since we spend an inordinate amount of time inside, we placed focal points strategically so that they can be viewed through windows from within the home. An added bonus is that when we decide to sell our home in the future—no matter the time of year—the garden will always be enticing from a buyer's viewpoint.
A working greenhouse for seed starts is in production year round.
Unusual Aspects
Since Dawn works in the nursery industry, she is privy to new introductions before they are released to the general public. You will be able to see plants that are currently in wholesale nursery trials for 2013 and beyond. New annuals from Proven Winners, perennials from Skagit Gardens, woody ornamentals from Plant Haven and others will be showcased.
Edibles
Fruits and herbs have been integrated into ornamental beds, so you'll need to look for them.
Vegetables poke up between perennials and shrubs in the front "hell strip".
Containers in the front and backyard sport columnar apple trees and evergreen blueberries.
A cement block raised garden bed adjacent to the greenhouse offers chard, corn, elephant garlic, red lettuce and Walla Walla onions. The 'holes' are planted with herbs, corn and garlic to test if the heat held by the concrete will increase the soil temperature thereby speeding development and producing robust yields.
Fertilization/Pest Control Techniques
Between a full–time job, freelancing and Marylhurst University there is not much time for weeding or fertilizing. Fertilization is done at planting time by means of a side dressing of compost. Weeds are hand pulled.
Hanging baskets are fed a limited diet of Miracle Gro, but everything else is ruled by the principle of "benign neglect is a beautiful thing."
Pests are either hand–picked, doused with soapy water or receive a blast from the hose when seen.
For slugs and earwigs, tuna fish cans with beer and vegetable oil are placed at the base of desirable plants in the evening and collected in the morning.
Other pests are tolerated. Because we do not use pesticides, we have a solid biodiversity of beneficial bees, butterflies, hummingbirds, flies and birds that take respite in the heart of Beaverton.
Composting Techniques
Monthly runs to Starbucks for coffee grounds make for a nice top dressing around acid–loving ornamentals.
Food scraps are placed in a composting bucket.
Back to Garden List
Joanne's Garden:
17991 SW Broad Oak Blvd, Beaverton 97007
Beginnings
Like most gardens, this garden initially faced many challenges. In 1999, the property was mostly covered with gravel.
The riparian area at the far end of the lot needed much work. It was improved using recycled concrete and rock to shore up the bank. Water weeds are an ongoing challenge.
Fruit Trees
There are many fruit trees including apple (Gravenstein, Honey Crisp, Jonagold, red Sentinel), pear (Bosc, Red Bartlett), Asian Pear (several varieties), Cherry (Stella), Persimmon (Jiro), and Crabapple (Prairie Fire, Weeping).
Special Features
Terraces provide garden rooms, quiet spaces for reading and meditation.
Native plantings provide shade and protection from the sun.
Home built sheds store tools and supplies.
A charming pond that invites contemplation was added.
The covered back porch affords visitors with a view of much of the garden and provides a shady place to watch many species of birds coming and going to the many feeders hung throughout the garden. The birds (and human visitors) also enjoy the water features.
Edibles
Vegetables and herbs grow in containers and raised beds.
Lush trailing, cane, and bush berries–including strawberries, (Tri-Star), raspberries (Everbearing–red and yellow), trailing berries (Boysen, Arden).
Grapes
This garden provides a feast of healthy edibles!
Recycled Material Usage
The extensive use of recycled materials is evident throughout the garden either as decoration or support for perennials and edibles.
Back to Garden List
Rao's Garden:
14185 NW Melody Lane, Portland 97229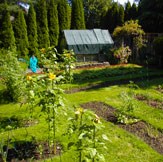 Greenhouse, potatoes, beans, etc
Beginnings
In 2005, this backyard was an extensive lawn with a lone apple tree and bushes.
The work
Removed much of the grass to make room for vegetables beds.
Built a raised bed.
Installed a greenhouse — and we start most of our seeds here.
Added structural support for raspberries.
Planted blueberry bushes, gooseberries and strawberries and a pear tree.
Vegetables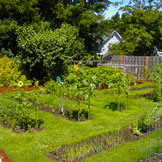 Raspberries, compost, squash, etc
"Usual" vegetables such as tomatoes, lettuce, peas, cucumber, spinach, squash, pumpkins, sweet and hot peppers, eggplant, onions and potatoes,
Some Indian vegetables such as luffa, amaranth, bitter melon, snake gourd and an Indian squash
Commitment to sustainability
Composting — several compost bins for our "cold compost" migration system.
Organic fertilizer.
No power tools!
Annual crop rotation and winter cover crops.
Rainwater collection system, sprinkler system used sparingly.
Ask us about our slug control!
Back to Garden List
RJ Green's Garden:
2008 SE 52nd Ave. Portland 97215
Focus
This small garden not only oozes with charm, but it produces a number of medicinal herbs and edibles.
The main project here is to create a beautiful garden that is as environmentally sound as possible. No pesticides or fungicides are used. This garden is designed to minimize water usage.
The back garden is quite small, 450 sq.ft. and it receives limited sunlight. In spite of this, the garden contains a large variety of flowers, vegetables, herbs and very importantly, traditional Native American medicinal plants.
Edibles
Along with Sword ferns and Lady ferns, two Asparagus plants produce wonderful spears every spring. Three thornless blackberries produce fruit July through late September.
Medicinal Plants
Beebalm
Thimbleberry
Beach Strawberries
White Sage
California Poppies
Our "canvas"
The garden was started from scratch, and we had the opportunity to create good drainage and work on soil improvements
We created several dry areas for succulents with the use of gravel.
We mulch the garden in the Fall
Minimal amounts of organic fertilizer and bone meal are used as needed.
Newest Additions — the parking strip
Where there was grass there are now two large beds, one for sun loving vegetables, the other for shade loving plants.
Elizabeth Magnolia was planted as part of a neighborhood commitment to return the street to its prior tree-lined state.
Commitment to sustainability
Through trial and error, we have produced plants which grow well with minimal intervention.
Ask us about our slug control!
Only cultural means are used to control pests and fungus.
Back to Garden List
Trina & Loren's Garden:
17475 SW Washington Court, Aloha 97007
This lovely garden on one third of an acre is relatively new. It is a great example of the use of salvaged materials including concrete, wood, and stone to enhance the beauty and functionality of a garden.
Front yard — a cottage style garden that reflects a plant collector gone wild!
Feast your eyes on an array of at least 125 perennials, roses, evergreens, shrubs, trees and more.
In the spring, Trina's favorites are the lilacs.
In the late summer/fall, the standouts are eight varieties of hardy hibiscus.
Among many unusual plants, look for: Rubus lineatus, Taxus B Amersfoort, Sea holly, Amethyst Coralberry, Monkshood, Katsura, Eucomis, Tetrapanex, Schizostyllis coccinea, Romneya coulteri.
Special Features
One area is planted to attract birds.
Native Plants area
16 foot arbor hallway made of rebar which has 7 climbers vying for center stage.
Sneak peak at "From my Bed to Yours" — a new plant rescue and exchange organization
The Back Garden
Ergonomically designed raised vegetables beds, pathways and walls are creatively designed using recycled materials
Organic matter, including compost and worm castings from the enormous homemade worm bin, nourish this garden year– round. All the plants share the bounty of garden gold worm castings.
Back to Garden List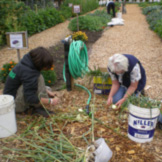 Westside Community Church Giving Garden:
18390 SW Farmington Road, Beaverton 97007
History
The Westside Community Church Giving Garden was started January 2011. We grow food to supplement the food boxes that our church gives out each week to the poor in the Aloha community (via the Westside Community Church Food Brigade ministry). The church administration gave the green light to use the area of land that grew weeds and a bit of grass. After digging out four 10x10 foot squares we started four 4x80 foot rows. We were joined by a number of volunteers and a master gardener who supplied us with the bulk of our seeds and starts. We got a few donations of compost and bark chips and we were able to enhance the soil and the paths. Last year, we had water piped underground to the garden. We raised over 2,000 lbs. of food that was all donated through the Food Brigade to the community.
Produce grown in 2011
Fruit: Blueberries, Marigolds, Strawberries, Watermelons
Greens: Bok Choy, Collard green, Kale, Lettuce, Spinach, Swiss chard
Herbs: Basil, Oregano, Parsley, Sage, Stevia, Thyme
Vegetables: Beans, Broccoli, Cabbage, Cauliflower, Cucumbers, Eggplant, Onions, Peas, Peppers, Pumpkins, Radishes, Summer squash, Tomatoes, Turnips, Zucchini
Sustainability
Last year there were no pesticides used on the garden. With the addition of raised beds, large bark–chip borders, and an organic slug killer, we hope our slug problem will be under control, as last year they decimated many of our plants. When we were digging the garden beds, we did not spray the weeds and grass, but dug out the sod by hand — we believe this removed a great number of weed seeds that would have been present had we tilled in the sod.
This year...more growth
This year with the addition of more compost, drip irrigation, and two added 10x8 plots, we hope to double the number of pounds of food produced. We will also be growing more vegetables that our Food Brigade guests are more familiar with, and emphasize growing the varieties that were proven to grow well last year. We have also planted a few small fruit varieties that hopefully, in time, will give us all the grapes, plums, figs, and peaches we could need for our ministry.
Back to Garden List
Click here to download a summary with addresses to take with you
---
Problems, questions, or suggestions? Contact: webmaster@metromastergardeners.org