Washington County Master Gardeners™
Demonstration Garden
The Washington County Master Gardener™ Demonstration Garden features a series of vignette gardens that demonstrate a variety of gardening styles and methods while reflecting the Master Gardener™ philosophy of sustainable gardening practices.
Visit us and be inspired with ideas and techniques that you can incorporate into your own garden at home. Enjoy a beautiful morning stroll through the gardens and get your gardening questions answered by knowledgeable OSU Extension Master Gardeners.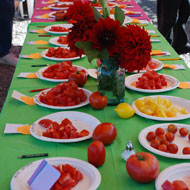 Demonstration Garden is open to the public (Free Entrance!)
We are located at the west end of the Washington County Fair Complex, at the Cloverleaf Entrance on NE 28th Street in Hillsboro (
«Map »
).
Hours:
Tuesdays, 9am to Noon, rain or shine.
We are open other days for special events (see events here), including Garden Thyme during the Washington County Fair and our famous Tomato Tasting Challenge in September
Request a guided tour on a specific date for your group here »
Washington County Master Gardeners and our partners offer regular garden-side seminars and workshops presented by local Master Gardeners on topics they are passionate about. Dates and descriptions here »

The Demo Garden at the Washington County Fairgrounds is a showpiece of the dedicated work of many Master Gardeners.
See examples of:
"backyard" area, highlighting ideas and techniques for homeowners with smaller backyards
asian-inspired garden
children's garden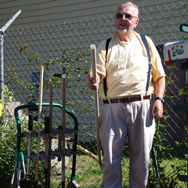 "Gardening Made Easier" Techniques
Mason Bee "Street"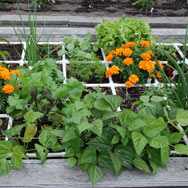 Square Foot Garden
Gardening in small spaces
Other sections of the Demonstration Garden show you how to:
garden veggies all year
grow UP, in our vertical garden
grow fruit
cane berry demonstration area
espalier fruit trees (training technique)
kiwi
grapes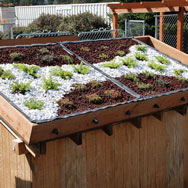 Eco Roof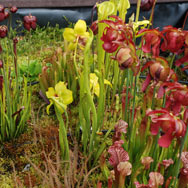 Bog Garden with
Carnivorous Plants
Composting Area
You will also see...
edible landscaping
drip irrigation techniques
greenhouse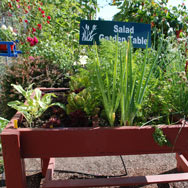 Salad table
outdoor classroom
(see Public Events)
Raised Bed Showcases
And...don't miss...
rain barrels, saving water technique
garden art ... beautiful bird houses, murals, rock sculptures
storage sheds
...and our resident garden cat...Pattie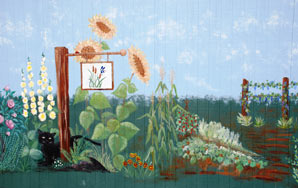 WCMGA Demo Garden Mural
Rose Marie Hibbs
All Demo Garden photos: Courtesy of Anna Stubbs
---
Problems, questions, or suggestions? Contact: webmaster@metromastergardeners.org