Washington County Master Gardeners™
Washington County Master Gardeners sponsor a variety of gardening–related demonstrations, lectures, seminars and workshops in various Washington County Oregon locations. Most of our events are free and open to the public. Please join us at any of the events listed here and be prepared for a fun, interesting and informative event.
Hillsboro Fair Complex Demo Garden
Just a reminder, our Hillsboro Fair–Plex demonstration garden is open to the public during the winter too. You are welcome to stop by any Wednesday from 9am to Noon. See how our garden grows, ask questions and enjoy the vibrancy of a well–tended garden! « directions and more info »


Coming soon...
Photo: University of Missouri Extension
Wednesday March 12 2014 ◊ 9:30–11:00am
Demo Garden Seminar ◊
Seed Starting
Location:
Washington County Fair Complex
Master Gardener Demonstration Garden
Map and directions
Free! No registration required
Presented by OSU Extension Master Gardeners
Presenter: Washington County Master Gardener, Daisy Parquet
Daisy will demonstrate how to plant a variety of seeds in flats...and afterwards, attendees will have the opportunity to have hands–on experience and get feedback so you will have confidence to start your own seeds at home.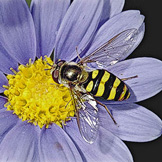 Photo: JK Clark, University of California
Adult syrphid flies pollinate all types of flowers while the larval stage feasts on aphids, a sworn enemy of many garden plants.
Thursday, March 13 2014 ◊ 7:15PM
Garden Allies:
Pollinators, Predators & Parasitoids
Gail Gredler, Chemeketa Community College
Gail Gredler, CCCHorticulture Instructor
Location:
First Baptist Church
5755 SW Erickson Avenue, Beaverton
Map
Free! Lectures are open to the public — no registration required
While the focus on insects in the garden is often on those species that wreck havoc on our plants, there are many more insects that are beneficial in the garden. This program will focus on several groups of those insects: pollinators, predators and parasitic insects. Each of these groups plays an important role. The pollinators are responsible for seed and fruit production, while the predators and parasitoids help control those insects that feed on plants. There are many ways to attract and keep beneficials in the garden. Come and learn about this large cast of characters and how you can garden to promote their presence. «...Read more here...»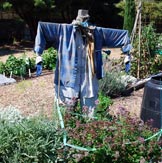 Saturday March 15 2014
Taught in English: 10:30am – Noon
Taught in Spanish: 2:00pm – 3:30pm
Grow It Series ◊
Starting Your Vegetable Garden
Location:
Forest Grove City Library
2114 Pacific Ave., Forest Grove
Map
Free! No registration required
Often, new vegetable gardeners, dreaming of lush, productive gardens, are frustrated with their lack of success. Don't let that be you! An OSU Extension Service Master Gardener will walk you through the process of starting your own vegetable garden. They will talk about site selection, soil preparation, planting times, water and fertilization needs as well as general garden maintenance. Focus will be on the spring and summer gardens. OSU Extension Service recommended varieties of vegetables will also be shared.
---
More Lectures and Events
See the Guest Speaker Series page for more information about upcoming lectures.
See the Public Events page for more information about upcoming demonstrations, workshops and other events.
---
Problems, questions, or suggestions? Contact: webmaster@metromastergardeners.org