Washington County Master Gardeners™
Washington County Master Gardeners sponsor a variety of gardening–related demonstrations, lectures, seminars and workshops in various Washington County Oregon locations. Most of our events are free and open to the public. Please join us at any of the events listed here and be prepared for a fun, interesting and informative event.
Demo Garden
Just a reminder, our demonstration garden is open to the public EVERY Tuesday from 9am to Noon. You are welcome to stop by, see how our garden grows, ask questions and enjoy the vibrancy of a well–tended garden! « directions and more info »
Coming soon...
Thursday, January 9 2014 ◊ 7:15PM
Climate Change & Trees for the 21st Century
Jim Gersbach with Friends of Trees
Location:
First Baptist Church
5755 SW Erickson Avenue, Beaverton
Map
Free! Lectures are open to the public — no registration required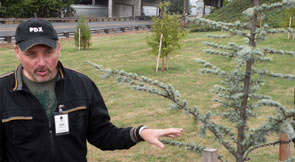 Photo Courtesy: Jim Gersbach, International Grove Tour
A native Oregonian, Jim Gersbach has a degree in Journalism from the University of Oregon and works in health care communication in Portland. For more than 20 years he has been planting trees with the non–profit tree–planting organization Friends of Trees. Jim founded the Ainsworth Linear Arboretum, which showcases a variety of different street trees, some on an investigational basis. He also helped create the Global Forest at a grade–school in east Portland, an arboretum with a variety of oak species and monotypic tree species at Meek School in northeast Portland, and helped the Bureau of Environmental Services in creating the Cully-Concordia International Grove in northeast Portland.
More Lectures and Events
See the Guest Speaker Series page for more information about upcoming lectures.
See the Public Events page for more information about upcoming demonstrations, workshops and other events.
---
Problems, questions, or suggestions? Contact: webmaster@metromastergardeners.org