Multnomah County Master Gardeners
Upcoming Speakers and Events
Tuesday, March 11, 7pm
Planning the Edible Gardening Year
Speaker: Lorene Edwards Forkner,
author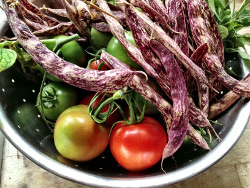 Photo: Lorene Edwards Forkner
There is nothing more regionally-specific than vegetable gardening. Cool-season crops (like cabbages, carrots, and kale) yield generously, while demanding little from us aside from the care of the soil. But if you want your harvest also to include tomatoes, eggplants, cucumbers, and peppers, it pays to approach the growing season with a definite plan and a few simple tricks to maximize summer heat. Join us as Lorene Edwards Forkner, author of The Timber Press Guide to Vegetable Gardening in the Pacific Northwest shows us essentials to produce delicious, healthy food through-out the year.
Saturday, March 29, 9am to 3pm
Multnomah County Master Gardeners'
Early Spring Edibles Sale 2014
PLANT, GROW, EAT!
It's time to envision your kitchen garden…harvesting nutritious, just picked, fresh goodness for your table at our Early Spring Edibles Plant Sale, Saturday, March 29th, 9am to 3pm, at the SMILE Station, 8210 SE 13th Avenue, in the Sellwood neighborhood.
We will be offering plants perfect for planting in April (or even the very tail end of March!). Our veggie starts are grown locally using organic practices; vegetable varieties proven to thrive in our area. Asian greens, lettuce, peas, kale, collards, chard, onions, leeks, broccoli, and more!
We will also be selling garden row-cover and Atlas garden gloves one to keep your veggies protected and the other to protect your hands.
Those of you who pre-ordered can pick-up your order anytime between 9am and 2pm (yes, pre-orders must be picked-up by 2pm).
If you missed placing a pre-order don't despair, we have ordered extra veggies for you to buy! So there is a chance for everyone to get their gardens off to a stellar start! For best selection come early!
10:30am and 12:30pm Beginning Vegetable Gardening Workshop: Multnomah County Master Gardeners offer expert advice on successful and sustainable vegetable gardening. Free. All welcome.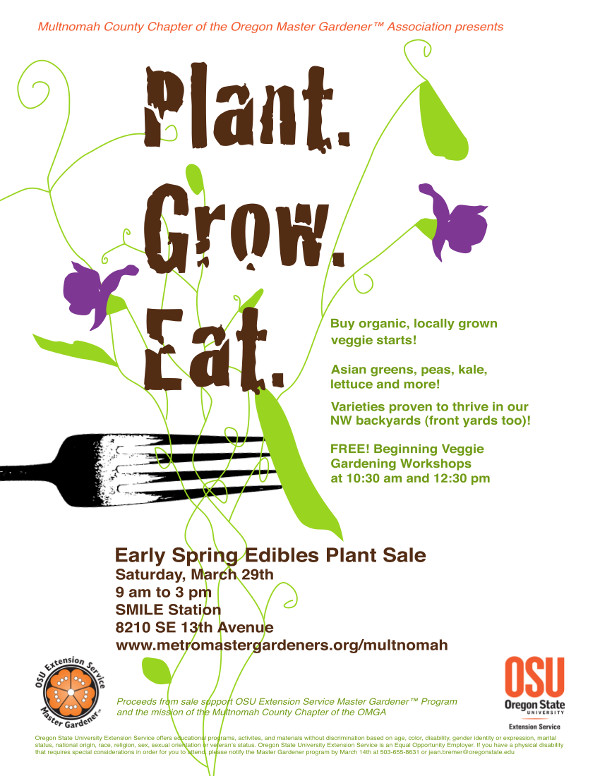 ---
Problems, questions, or suggestions? Contact: webmaster@metromastergardeners.org